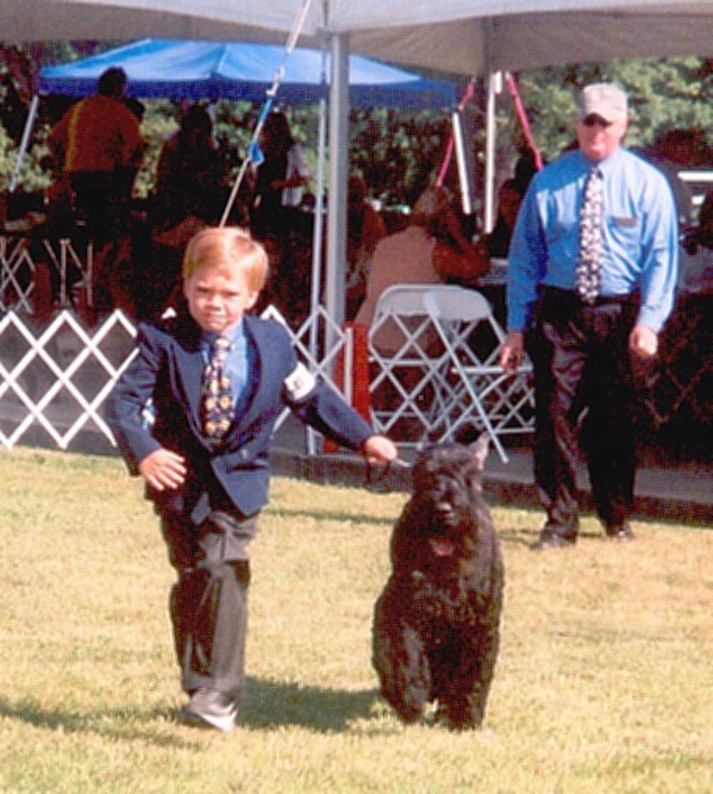 I would like to introduce you to an incredible breed, one that we feel is the best there is.....the Giant Schnauzer. We have been Giant Schnauzer breeders since 1983, and can not ever see us without one of these dogs as a member of our family. On this website you will find a lot of information regarding what we expect of our dogs.
Our Giant Schnauzers are home raised, which we feel strongly ingrains socializing at a very early age. The Giant Schnauzer is a great family dog, we raised our two sons with this breed, now we have a young grandson that spends a lot of time with all of our dogs. We would never have a dog that we would in any way worry about with children.
The Giant Schnauzer is a breed meant for family life, they do not shed although their hair does break off, so you will see some hair collect in the corners of hardwood/tile floors. This non-shedding coat allows many people that are allergic to dogs to tolerate the Giant Schnauzer. Giant Schnauzer puppies are exuberant, and fun loving. As adults they are just incredible dogs to live with. Take as much time as you need on our website to have some of your questions answered, if you have more (I am sure you will) feel free to call me (815-626-8673) so we can talk about this great breed
the Giant Schnauzer.
We are out to EARN a good reputation.
Copyright 2018 Hatten's Giant Schnauzers
All rights reserved