Hi! & Welcome to our Giant Schnauzer family.
Home of the

Number 4 Giant Schnauzer in 2003
Number 1 Owner Handled in 2003
Multi AKC Eukanuba National Championship, and Westminster Invitee
Number 1 Giant Schnauzer in 2005
Number 1 Owner Handled in 2005
Number 1 Giant Schnauzer in All Breed points 2005
Multi AKC Eukanuba National Championship, and Westminster Invitee

LUCAS
WESTLEY

Want to see more information on each of these dogs, just click the picture to get their pages…..
Jim - Kim Hatten
1712 Angle St.
Rock Falls, Il 61071
(815) 626-8673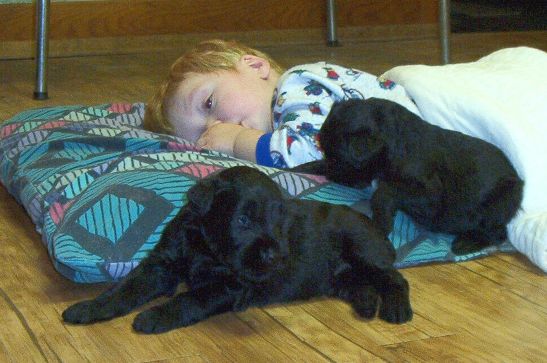 Hatten's Giant Schnauzers is located near the tree-lined waterways of the scenic Rock River in Rock Falls Illinois, about two hours west of Chicago. We have been Giant Schnauzer breeders since 1983, this gives us a very good basis of experience with the breed. Our Giant Schnauzer puppies have won championships in the conformation, obedience, and agility rings, as well as on the Schutzhund field. All of our Giant Schnauzer puppies, and dogs are home raised, we do not have outdoor kennels. We feel this gives us an advantage over larger Giant Schnauzer breeders, since our dogs, and puppies live in the house. They get a chance to experience family life, we think this is extremely important. We feel Giant Schnauzers like any puppy needs a lot of socializing to become great family members. Which no matter what else you will want to do with your Giant Schnauzer puppy, they need to be great friends, companions, and family members.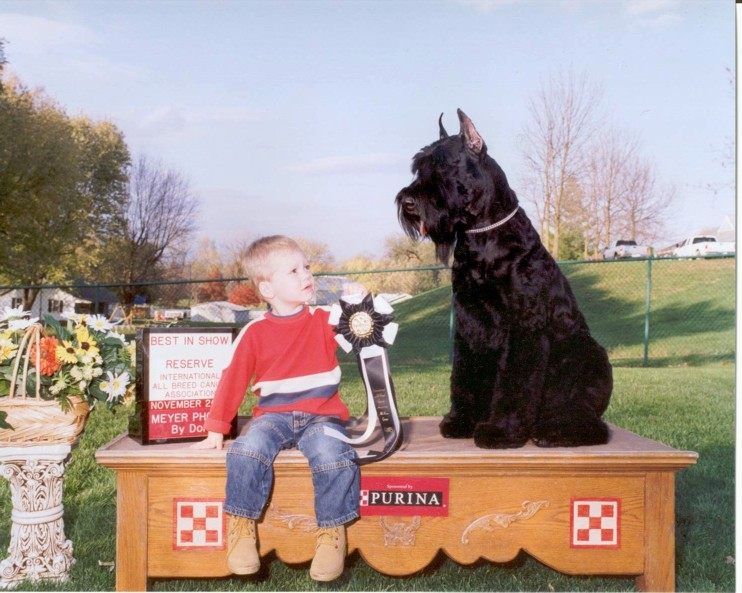 We have dedicated ourselves to producing the finest Giant Schnauzers that we possibly can. We research carefully before we seriously consider a breeding to preserve the integrity of this great breed, we want to produce a total Giant Schnauzer. A dog you can be proud of no matter if you want to show your Giant Schnauzer in conformation, obedience, agility, Schutzhund, or have a Giant Schnauzer puppy for what they are truly meant to be….your best friend. A Giant Schnauzer puppy with all around sound health, stability, and correct temperament. There is nothing like a new lil ball of energy like Giant Schnauzer puppy, once you have one you will realize why I am always excited to come home.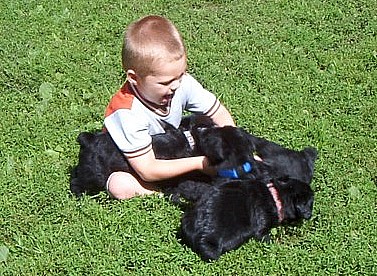 If you already own a well-bred Giant Schnauzer, then you know what we are talking about.
You will never find a more faithful, loving friend, and companion than your well-bred Giant Schnauzer.
Feel free to call us with any questions you might have
(815) 626-8673.
We are always willing to talk about this great breed called the Giant Schnauzer.
Your Giant Schnauzer puppy is waiting for you, and your family.
American Kennel Club
---

We are out to EARN a good reputation
Copyright 2018 Hatten's Giant Schnauzers
All rights reserved
Home - About Us - For Sale - Training - Their Coat - Our Policy
Puppy Info - Prices - Questionnaire - Recommended Diet - Testimonials
Pictures - Our Giant Family - Our Friend's Dogs - Photo Album - Hall Of Fame - Westminster Moments - Eukanuba Moments - Westminster 2006