ABOUT US
We began showing and breeding Giants in 1983, and are very proud of our accomplishments in and out of the show ring. The single most important thing to us is the temperament that we have been producing, and expect from each and every one of our puppies. If you canít live with it or you have to worry about your dog biting, it isnít a good dog.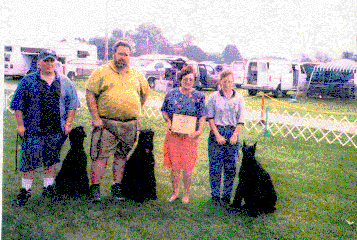 THREE CGCíS (TEMPERAMENT TEST) IN ONE DAY
We feel that socializing begins at birth and is the single most important thing a puppy can have. We are there when the puppies are born, then we help mom by bottle-feeding, you would be amazed at how the puppies bond to people when bottle-fed. Since the can easily have ten or more puppies in a litter, we feel they deserve some help. We have two boys that are getting older now, but do have several nieces and nephews that visit often, helping to socialize the puppies. We take the dogs/puppies to the grade school kindergarten class; the kids and dogs love this time they have together.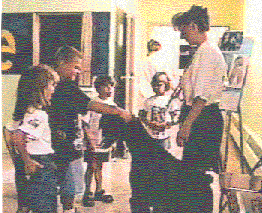 A DAY AT SCHOOL FOR LUCAS
Iím sure these are only a few of the questions that you are probably asking yourself, but may be enough to get you started on your way to having what we consider a very special breed. If you choose a Giant you will see what we mean by "once you have lived with one you will find it very hard to live without one." They will be more than a dog or petÖ.they will be a member of your family.
---
We are out to EARN a good reputation
Copyright 2018 Hattenís Giant Schnauzers
All rights reserved
Home - About Us - For Sale - Training - Their Coat - Our Policy
Puppy Info - Prices - Questionnaire - Recommended Diet - Testimonials
Pictures - Our Giant Family - Our Friend's Dogs - Photo Album - Hall Of Fame - Westminster Moments - Eukanuba Moments - Westminster 2006