TRAINING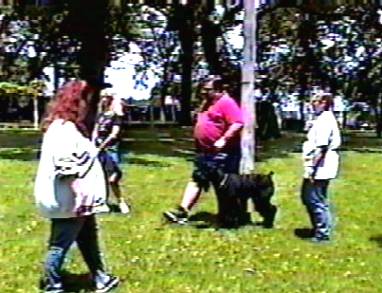 LUCAS OFF LEAD OBEDIENCE IN A GROUP OF PEOPLE
Giants are a high-energy dog, they love to run and play, but is equally happy laying at you feet. They need to burn up a little of that energy, by going for a long walk, or running in a fenced area.
Giants are a large dog, and we feel that all dogs need obedience training, but especially large dogs. Obedience class may not be necessary if you have experience, but may be advisable if this I your first dog, or the first for some time. Either these classes can at the very least serve as great socializing opportunities. Giants are very smart and take to training very easily; they are usually the star pupils in class because they learn so fast. They are so smart that they will get bored repetition before most dogs will, so you need to vary your routine from time to time.
Just remember this cute little puppy could easily become a cute lil 100-pound dog in just a few months, so what is okay the day you bring it home should be ok in two years. Training can be hard enough, but breaking bad habits is very hard. If you are the kind of person that will let this puppy do as it pleases, you might want to look for another breed, they are smart and will take advantage if you let them. Consistency is the key to a happy well-trained dog, you are the boss, they have no problem with you being the boss, and just sometimes they need to be reminded that you are. Just loving caring responses from you will keep them in line. Train with the future in sight, realize what you will expect from your dog as an adult, and continually train with that goal in mind. Training a dog is much like raising a child, you have to let them know what is ok and not.
Giants are naturally protective; so typically donít need any training in this area. Just love and take good care of them, and they will want to do the same for you. What a loving gentle breed this can be if you put in the work.
---
We are out to EARN a good reputation
Copyright 2018 Hattenís Giant Schnauzers
All rights reserved
Home - About Us - For Sale - Training - Their Coat - Our Policy
Puppy Info - Prices - Questionnaire - Recommended Diet - Testimonials
Pictures - Our Giant Family - Our Friend's Dogs - Photo Album - Hall Of Fame - Westminster Moments - Eukanuba Moments - Westminster 2006