PUPPY BUYER QUESTIONNAIRE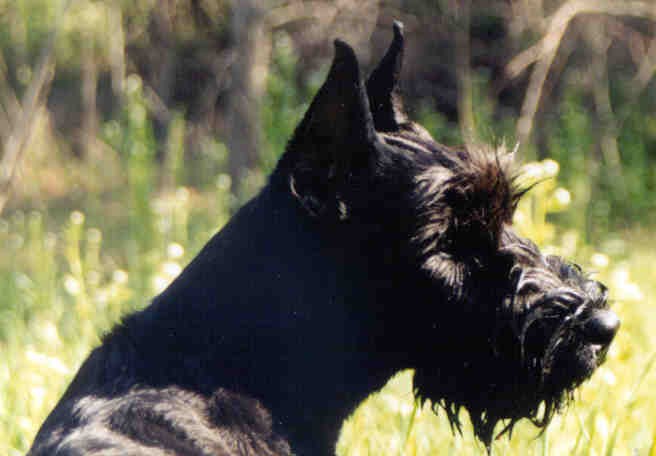 Once you have decided a Hatten's Giant Schnauzer is for you, please complete the questionnaire below, and mail it along with your $500 non-refundable deposit. Please make checks payable to Jim Hatten. The deposit is refunded only if we don't have an appropriate puppy for you, based on the answers to this questionnaire. Please don't hesitate in any of the steps, it could mean the difference of a puppy being available.
Thank you in advance for taking the time to complete this questionnaire. It will be used by us as an aid in placing the right puppy with you, this will ensure a long happy relationship for all of us, but especially the puppy.
Please call us at (815) 626-8673 with any questions you may have, prior to submitting this questionnaire. Or take advantage our website, (www.hattensgiantschnauzers.com ) and all of it's pages, that are filled with valuable information about us and our dogs.
Please print and complete the following questionnaire.
Please mail the completed questionnaire back to:
JIM HATTEN

1712 ANGLE ST.


ROCK FALLS, IL. 61071

Please make checks payable to Jim Hatten.
These questions weren't meant to discourage or intimidate anyone. It simply lets us all
determine your readiness for a new member to your family at this time.
I now feel more able to place the right puppy in your family.
Remember, all pets come with a limited registration, as well as a spay/neuter agreement.
I am looking forward to talking to you soon, about adding that new member to your family.
---
We are out to EARN a good reputation
Copyright 2018 Hatten's Giant Schnauzers
All rights reserved
Home - About Us - For Sale - Training - Their Coat - Our Policy
Puppy Info - Prices - Questionnaire - Recommended Diet - Testimonials
Pictures - Our Giant Family - Our Friend's Dogs - Photo Album - Hall Of Fame - Westminster Moments - Eukanuba Moments - Westminster 2006