HALL OF FAME
V1 JSG SG1 NA INT CH
GAJA VESTIGIA ARES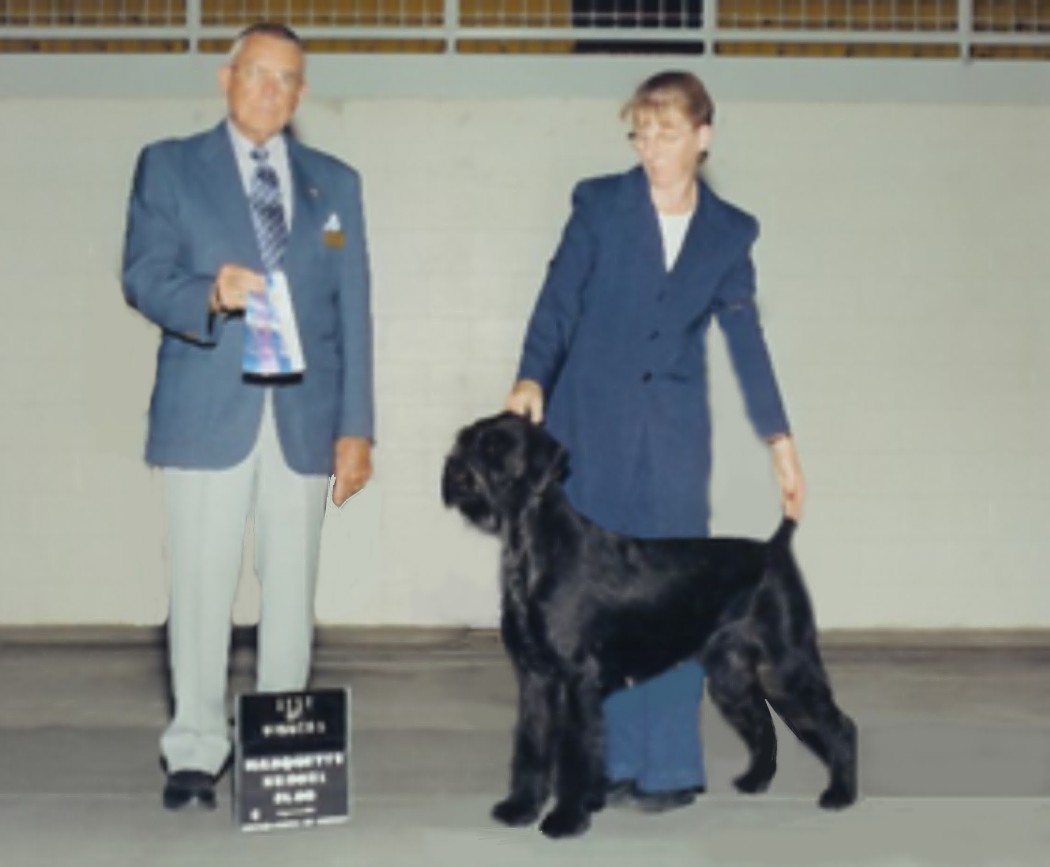 Pedigree

GAJA IS SHOWN ABOVE AT JUST 5 MONTHS OF AGE, JUST BEFORE LEAVING HER HOME IN CROATIA TO COME TO THE USA.
SHE IS EXTREMELY WELL BRED, WHICH IS OBVIOUS BY HER PICTURE; TRULY PICTURES ARE WORTH A THOUSAND WORDS. SHE GOES BACK TO SOME OF THE MOST FAMOUS DOGS IN ALL OF EUROPE. SHE HAS EXTREMELY NICE SHOULDERS, TOPLINE, TAILSET, MOVEMENT, HEAD, VERY NICE PRETTY DARK EYES, AND MOST IMPORTANTLY HER TEMPERAMENT IS UNBELIEVABLE. FROM THE FIRST TIME I SAW HER AT THE AIRPORT, I DONíT THINK SHE HAS STOPPED WAGGING HER TAIL. SHE HAS THOSE BRIGHT INQUISITIVE EYES, THAT JUST SAY OK NOW WHAT ARE WE GOING TO DO.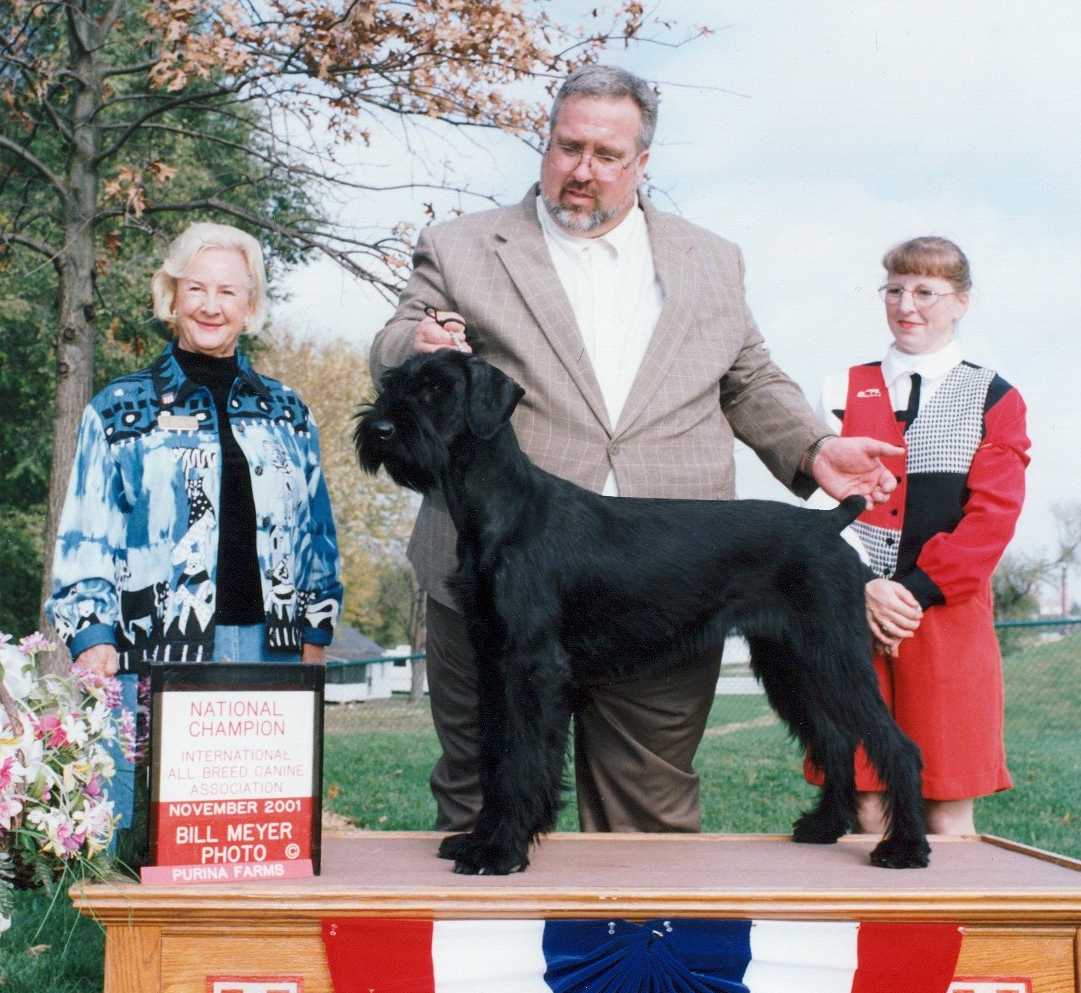 GAJA HAD BEEN IN THIS COUNTRY BARELY A MONTH WHEN SHE OBTAINED HER INTERNATIONAL YOUTH CONFORMATION TITLE, RECEIVING THE HIGHEST POSSIBLE RATINGS FOR A PUPPY. WE LOOK FORWARD TO BRINGING HER OUT TO THE AMERICAN SHOW RING IN THE VERY NEAR FUTURE.
GAJA RECENTLY COMPETED AT THE WORKING SCHNAUZER FEDERATION CONFORMATION SHOW, RECEIVING HER V1 RATING FROM PSK (PINSCHER SCHNAUZER KLUB) JUDGE ISOLD HUBER. GAJA WAS LATER NAMED BEST ADULT FEMALE, RECEIVING THE COVETED TITLE OF JAHRESSIEGERIN, GOING OVER SEVERAL NICE QUALITY FEMALES AND WAS CONSIDERED FOR BEST IN SHOW.
I WOULD LIKE TO THANK DUBRAVKO, AND MARINA PLESA FOR MAKING THIS EXTRAORDINARY YOUNG FEMALE AVAILABLE TO US. I AM SURE WE WILL SEE THE IMPACT SHE WILL HAVE ON OUR BREEDING PROGRAM FOR YEARS TO COME.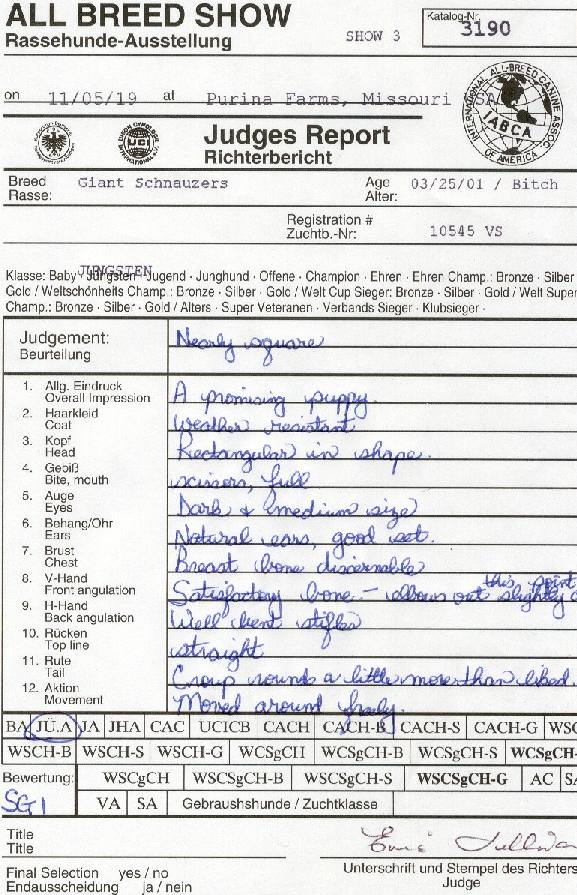 ---
We are out to EARN a good reputation
Copyright 2018 Hattenís Giant Schnauzers
All rights reserved
Home - About Us - For Sale - Training - Their Coat - Our Policy
Puppy Info - Prices - Questionnaire - Recommended Diet - Testimonials
Pictures - Our Giant Family - Our Friend's Dogs - Photo Album - Hall Of Fame - Westminster Moments - Eukanuba Moments - Westminster 2006