INT CH HATTEN'S RIDE THE WILD WIND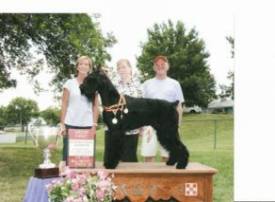 Breeze as he is called is the joy in Herb, and Janie's life right now, well ok more Herb. They are just meant to be together, sometimes we get lucky, and place the right dog in the right home, and this is definitely one of those times. I think Breeze has more than filled the void in their lives after the passing of their first Giant, and he has opened the door to the ever addicting dog show world to them.
There are few things in life at this point that bring more joy to Kim, and I than to help someone with a dog this special. Seeing Herb, and Janie be pretty much completely speechless because they were sooooo happy about everyone realizing how great a dog they had, was so gratifying to us. When Breeze won Group first at this show the look on their faces was incredible.
This is a relationship that will go on for many years to come, they are incredible people, and love that dog! Even if Herb thinks he is much more than just a dog, but you have to watch your Pop Tarts around those two!!!
---
We are out to EARN a good reputation
Copyright 2018 Hatten's Giant Schnauzers
All rights reserved
Home - About Us - For Sale - Training - Their Coat - Our Policy
Puppy Info - Prices - Questionnaire - Recommended Diet - Testimonials
Pictures - Our Giant Family - Our Friend's Dogs - Photo Album - Hall Of Fame - Westminster Moments - Eukanuba Moments - Westminster 2006