NA CH
HATTEN'S BRIDGE OVER WATER
Pedigree


Bridgette, is a daughter of Duke, and Missey, and is a real WOW puppy. Once you look at her it is hard to take your eyes off of her. She really is an outstanding puppy, and again most importantly she has that outstanding temperament.
She has started her show career, with a bang, taking a 3 point major from the puppy class, over very nice competition of adult bitches.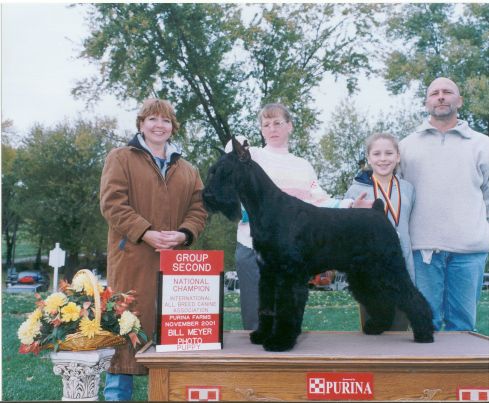 Bridgette, is owned by Tom, and Meg Bibula, and of course we can't forget their three daughters. As a family they have really done an excellent job of raising an excellent puppy. She is extremely well socialized, which makes our job of showing her soooooo much easier. They keep thanking us for such a wonderful puppy, but we truly feel we owe them the THANK YOU.
---
We are out to EARN a good reputation
Copyright 2018 Hatten's Giant Schnauzers
All rights reserved
Home - About Us - For Sale - Training - Their Coat - Our Policy
Puppy Info - Prices - Questionnaire - Recommended Diet - Testimonials
Pictures - Our Giant Family - Our Friend's Dogs - Photo Album - Hall Of Fame - Westminster Moments - Eukanuba Moments - Westminster 2006