NA INT AM CH


HATTEN'S PENNY'S SHADOW


CGC TDI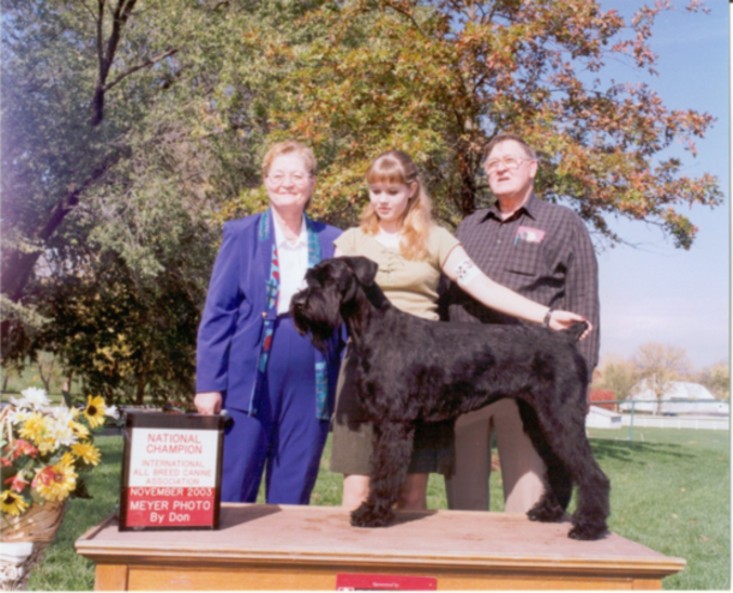 Talk about a great team, Rachel, and Shadow, are really in tune with each other. They seem to feed off of each others energy, and it is obvious the bond they have. The team doesn't stop there, the supporters of the team, are Dick, and Nancy Lindquist, or better known as Grandma, and Grandpa. They all love going to the shows to compete, and just have fun, which is what it is really all about….FUN.
Already proving their team efforts are effective, they have achieved the International Youth conformation title of National Champion, with all SG1 ratings (the highest rating available for the youth class). As well as the temperament test or CGC, and working as a Therapy dog. I think they have a lot more they are going to accomplish together as partners.
This team is also doing obedience, and agility just to show the versatility they have. Look for them at a show near you, in one arena or another.
---
We are out to EARN a good reputation
Copyright 2018 Hatten's Giant Schnauzers
All rights reserved
Home - About Us - For Sale - Training - Their Coat - Our Policy
Puppy Info - Prices - Questionnaire - Recommended Diet - Testimonials
Pictures - Our Giant Family - Our Friend's Dogs - Photo Album - Hall Of Fame - Westminster Moments - Eukanuba Moments - Westminster 2006