HALL OF FAME

INT CH HATTEN'S FORMIDABLE MISSEY O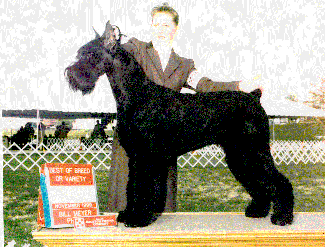 Missey is a Lucas daughter. Already an international champion, and well on her way to an American champion.
Missey is an outstanding female, tall and very elegant, fantastic movement, actually all the things you are looking for in a giant. Most importantly her temperament is really happy and outgoing.
She is OFA excellent for the fifth consecutive generation, a real tribute to the breeders before us. All we try to do is follow in those very large footsteps.
---
We are out to EARN a good reputation
Copyright 2018 Hatten's Giant Schnauzers
All rights reserved
Home - About Us - For Sale - Training - Their Coat - Our Policy
Puppy Info - Prices - Questionnaire - Recommended Diet - Testimonials
Pictures - Our Giant Family - Our Friend's Dogs - Photo Album - Hall Of Fame - Westminster Moments - Eukanuba Moments - Westminster 2006