HALL OF FAME

CH KEYSTONE'S MAYAS WILD HATTEN CGC THD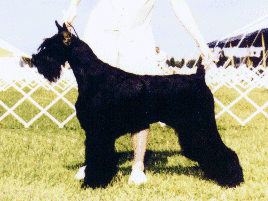 Maya is the daughter of Spanish import CH RAJA DE PICHERA, who is a great dog himself, and passes his traits onto his children.
Maya received her championship by 18 months of age, finishing very easily. She is OFA good, 25 ˝ in tall, and about 80 lbs a very substantial female. A wonderful outgoing temperament, that makes her a joy to live with. Maya has also received her CGC (temperament test) making her a complete dog, proving herself to be a complete package. Maya has also recently become a therapy dog, again proving the stability she was born with.
Maya is now retired from the show ring, living her days in leisure.
---
We are out to EARN a good reputation
Copyright 2018 Hatten's Giant Schnauzers
All rights reserved
Home - About Us - For Sale - Training - Their Coat - Our Policy
Puppy Info - Prices - Questionnaire - Recommended Diet - Testimonials
Pictures - Our Giant Family - Our Friend's Dogs - Photo Album - Hall Of Fame - Westminster Moments - Eukanuba Moments - Westminster 2006