HALL OF FAME

CH HATTEN'S SAMPSON VON CRATTY SCH I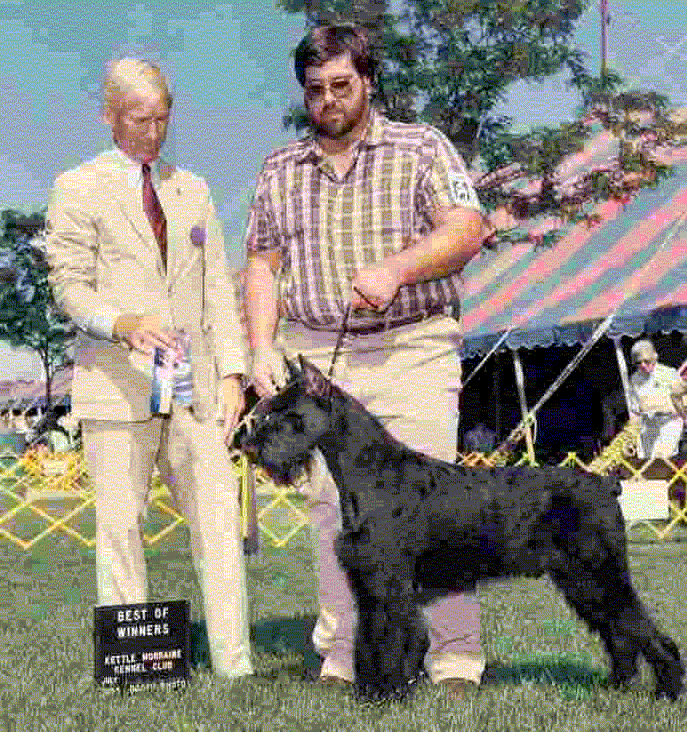 Sam was our first Giant, and wow what a dog. He was the son of the great German dog KSG / WSG /DT / AM CH Assi v Haus Pelzer SCH III / AD / TD, Assi actually has too many titles to list, he has about 40 European titles.
I went to a friend's house to look at a Rottweiler stud; I had never seen a Giant prior to this. I saw Assi, and was instantly in love with the breed. To this day I consider Assi one of the best Giants I have ever seen. His temperament, movement, just the way he carried himself, was so impressive. I knew right then I wanted one of his sons.
So I brought home Sampson, he was a lot like his Dad in most everyway. Like Assi, Sam proved to be a consistent producer of those things I liked so much about Assi. Sam showed me what great dogs are supposed to be like.
I miss him almost everyday, he will always have a very special place in my heart.
---
We are out to EARN a good reputation
Copyright 2018 Hatten's Giant Schnauzers
All rights reserved
Home - About Us - For Sale - Training - Their Coat - Our Policy
Puppy Info - Prices - Questionnaire - Recommended Diet - Testimonials
Pictures - Our Giant Family - Our Friend's Dogs - Photo Album - Hall Of Fame - Westminster Moments - Eukanuba Moments - Westminster 2006